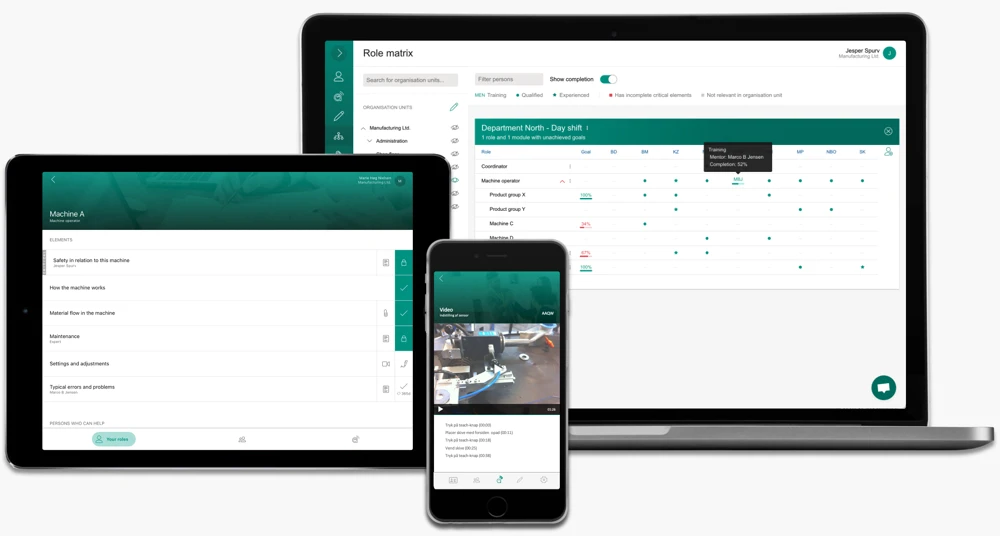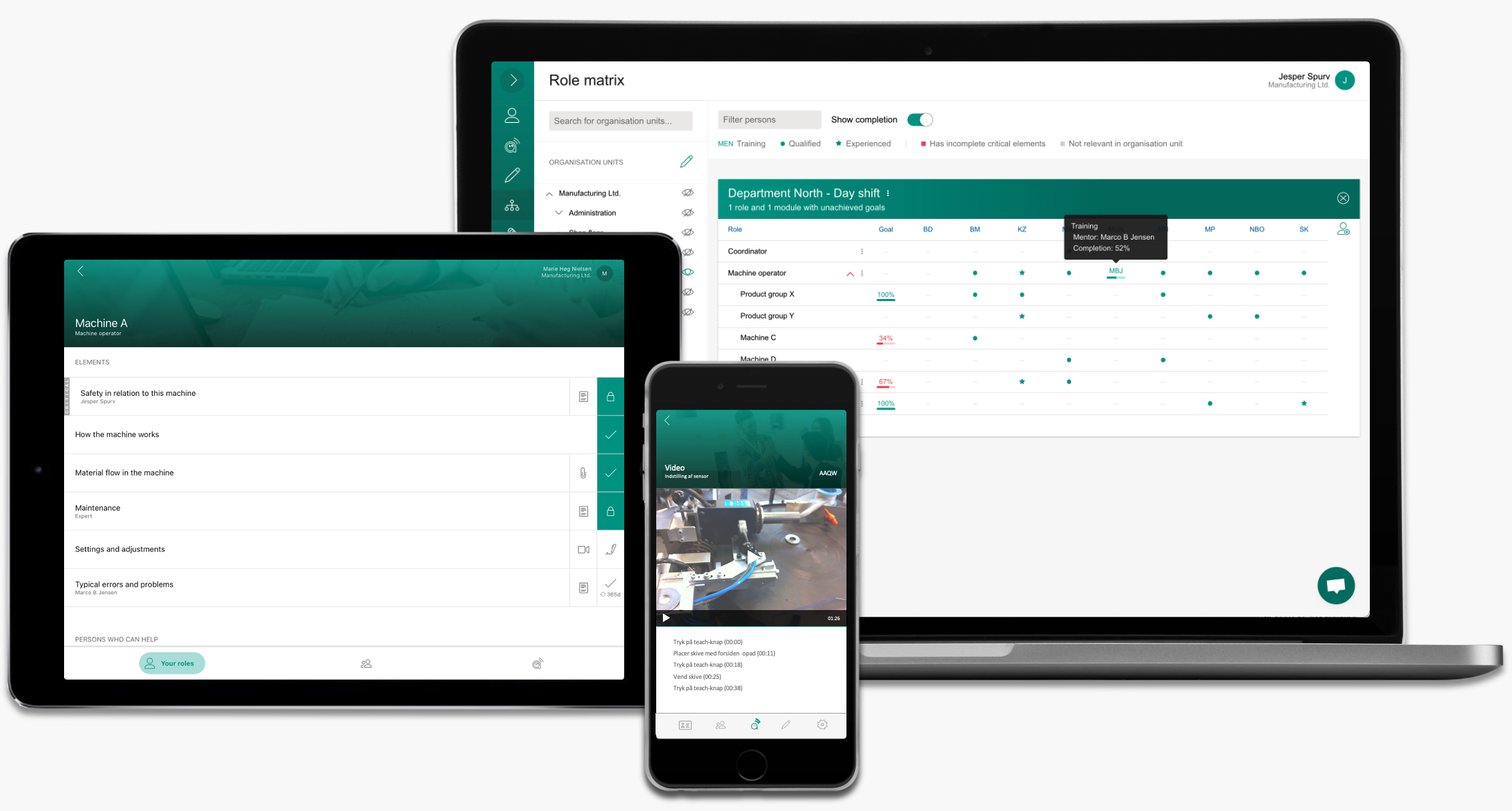 A shopfloor-friendly and fully integrated package of training tools
The platform is designed to integrate training, skills and instructions. It provides all needed tools for trainers, trainees, team leaders, training managers and the management team to build, run, scale and sustain an efficient training setup.
Training execution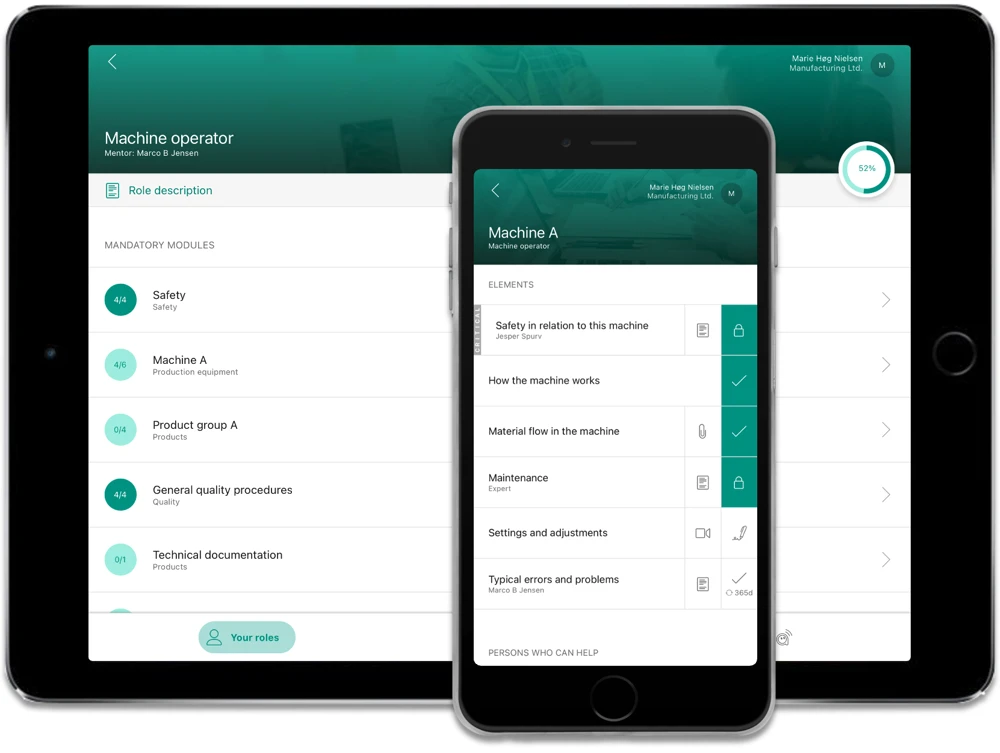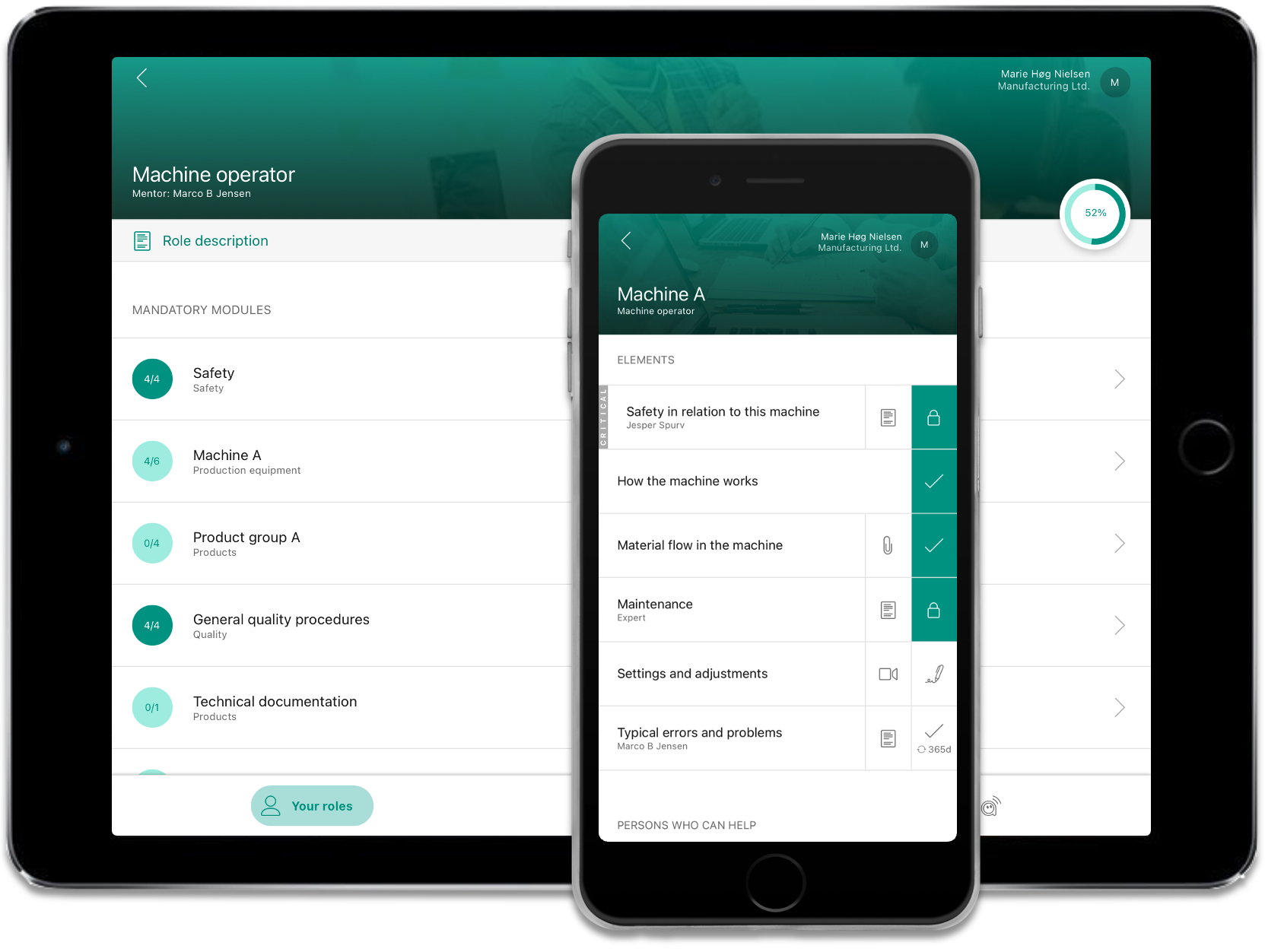 One of the cornerstones of the platform is an easy-to-use interface for the trainer and the trainee in the training situation. To support the training situation they are provided with training plans, training tasks, training material, relevant instructions in a mobile, interactive and simple interface. Whether a completion of a training task requires just a check-mark or a counter signing from trainer and trainee, it can be done easily in the situation and no documentation work is left for later.
Training management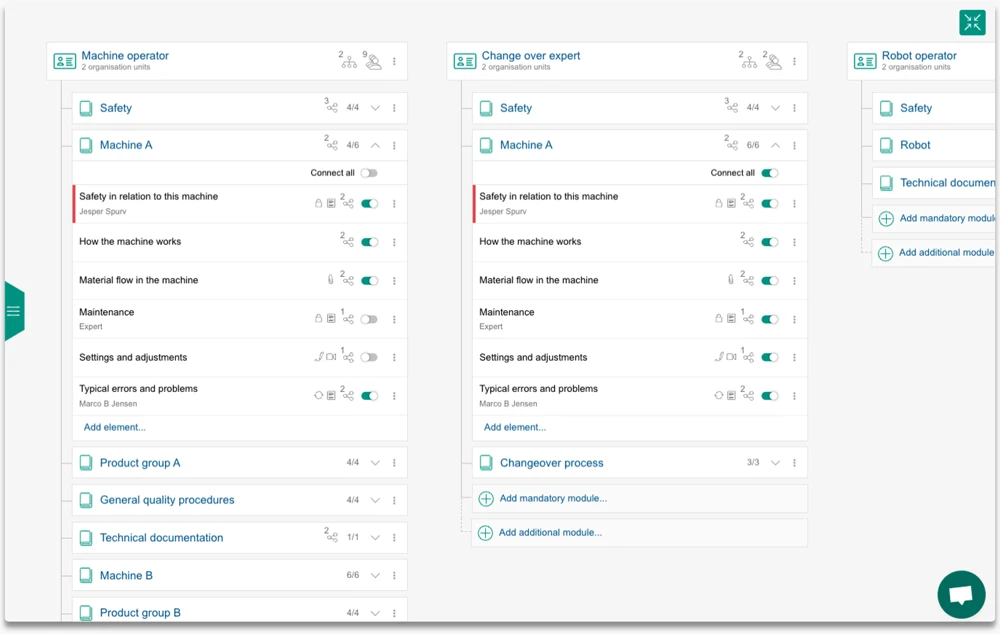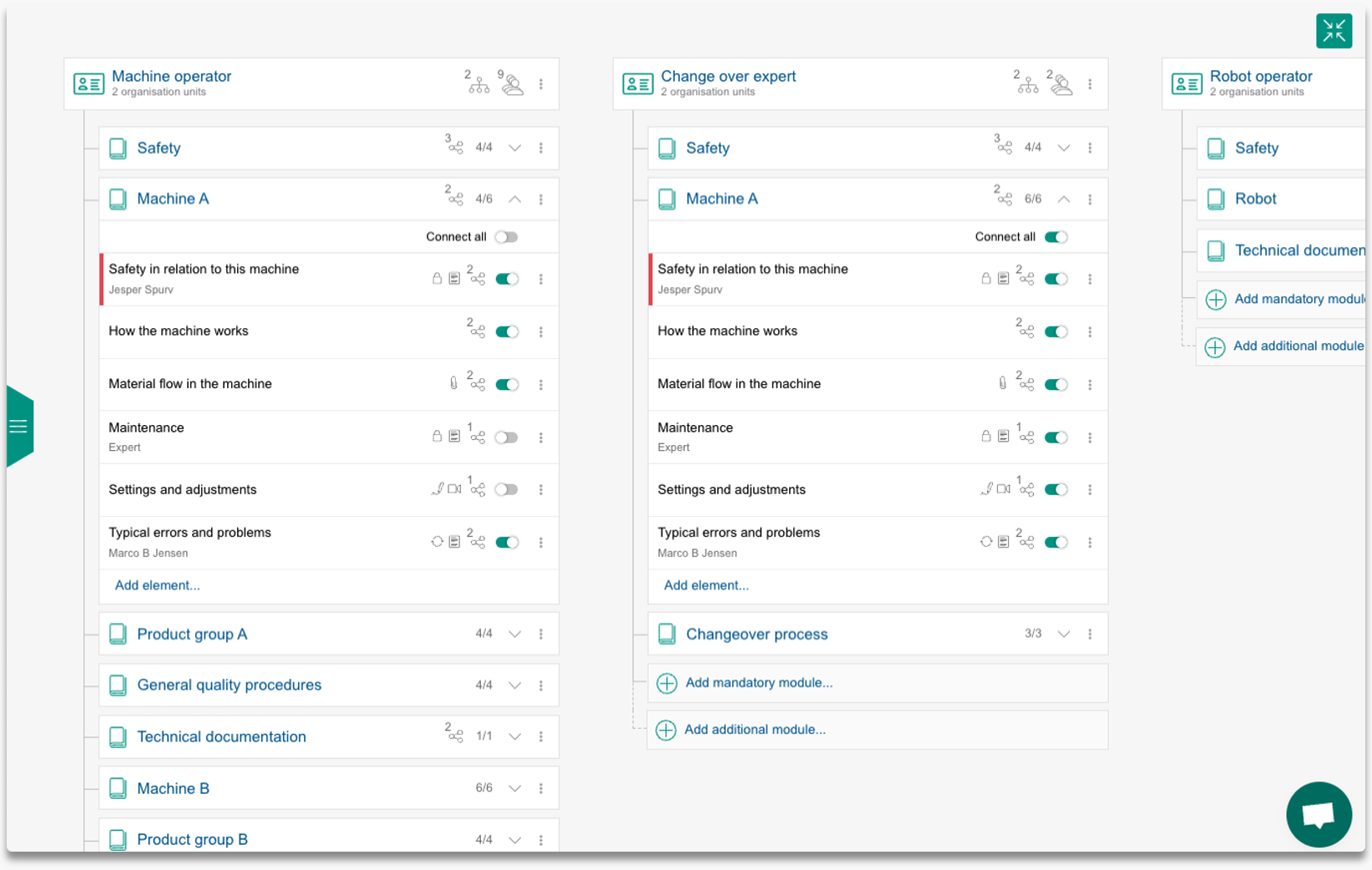 Fundamental to effective training management is to specify who needs which training. The platform is built around role-based training, where training requirements for each job-role is defined by reusable training elements.


A variety of configuration options
Training elements can contain notes, training material, instructions, videos, links etc. Furthermore, you can manage completion requirements, training expiration and assign specific trainers.
Skill management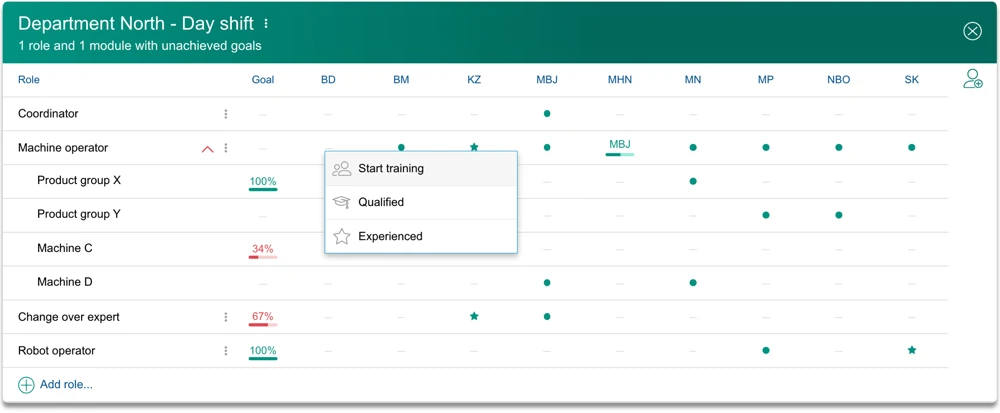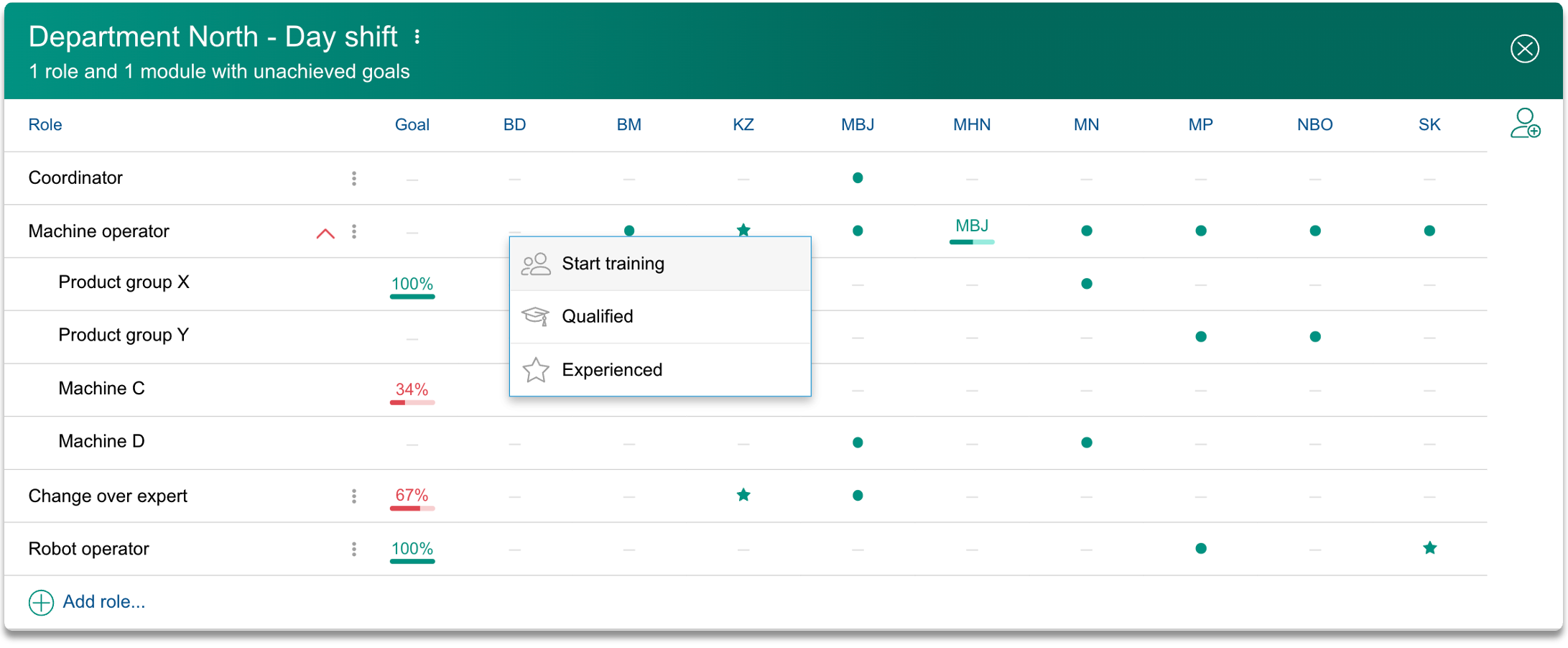 Managing employee skills and skills needed in the team is often the responsibility of team or department managers. To make this task operational the platform provides a role-based skill matrix.


Overview, goals & gaps
In the skills matrix, you will find an overview of which employees are trained for which job-role - and at what level. You will be able to divide employees into operational teams such as departments or shifts. To ensure fully operational teams, skill goals can be defined for each team and skill gaps will be highlighted based on team composition and current training requirements.


Interactive & integrated with training plans
When training is needed, you simply click in the intersection between employee and job-role and select a responsible trainer. Immediately training plans and material are distributed to trainer and trainee - and you will be able to follow the training progress in the matrix. The platform handles overlapping training requirements between job-roles, so everyone has overview of which elements in the training plan that already have been completed for example in another job-role.
Designed for shopfloor & ease of use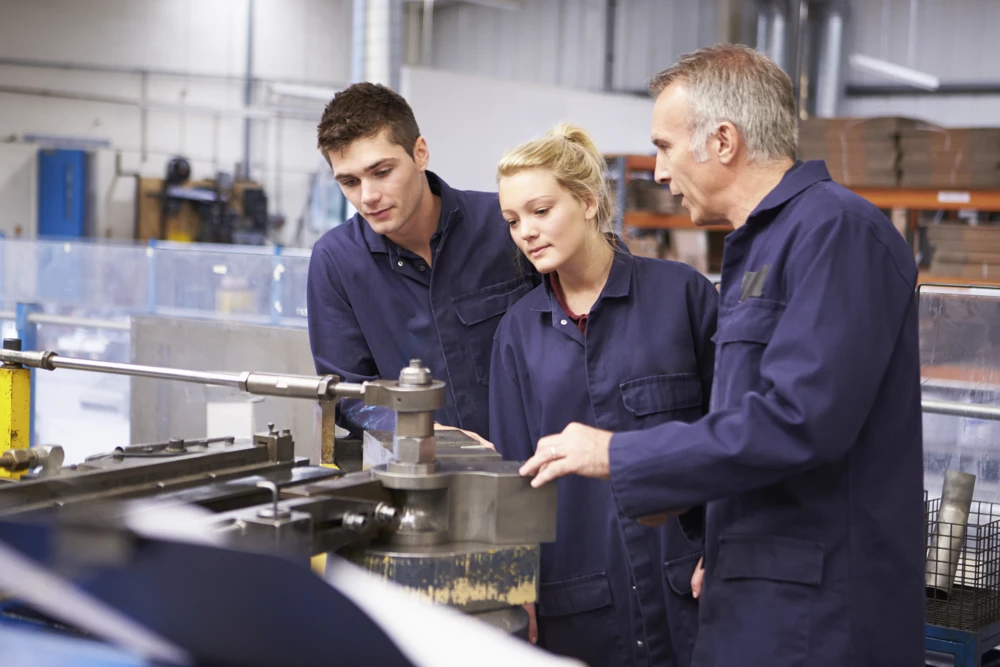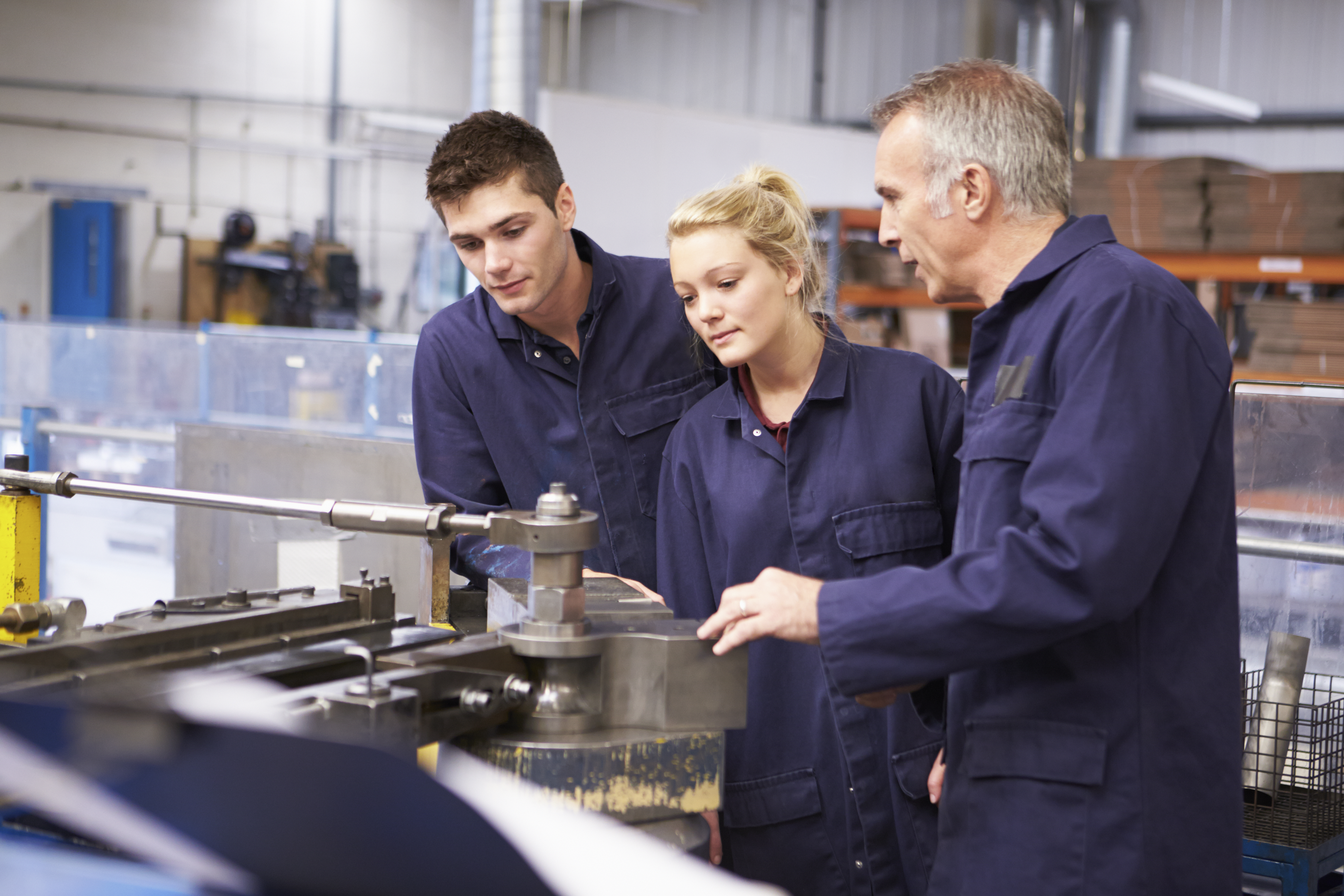 The philosophy of the platform is that relevant persons should be able to complete tasks in the situations where tasks naturally occur. And be able to do so with an absolute minimum of IT skills. Here are a few examples:


Trainers need to focus on the training itself - not the documentation of training
Trainers can access training plans and relevant material, receive handwritten signatures from signee for completion of training. This happens on a mobile device in the training situation often on the shop floor.


Operators need to access instructions while they are in front of the machine
With a 3-digit code attached to for example production equipment anyone can access a specific or a collection of instructions.


An instruction is recorded on the shop floor, not in an office
As editor of an instruction, you can record videos, change instructions and publish it on your mobile device while still standing in front of the machine. Of course an editor can also create, change and structure training material on a bigger screen in the office.
Features

Interactive training plans


Job-role breakdown


Reusable training modules


Countersign approvals

Handwritten signatures


Training expiration


Training history


Interactive task lists


Interactive skill matrices

Shift based goals & gaps


Video instructions


Shopfloor access to instructions


Multi-site support
The platform supports

All typical browsers


iOS & Android app

Any language


Access from any continent

AD integration & SSO


API access
Build with compliance & security in mind
Industry requirements
Built to ensure compliance with training and skill management requirements for a variety of industry standards.
Privacy protection
The platform and our business processes are fully GDPR & PIPL compliant.
Security
The platform is built thoroughly to be compliant with ISO 27001 - and so are all our business processes.